What's New
The Thistle Saloon
Grab yer partners, ditch those kilts, and swing by The Thistle Saloon for a boot-stompin' good time!
For a limited time The Knotted Thistle Pub has gone country!
Come on down between November 19th – 27th to enjoy some unique food specials and live entertainment!
Our food and beverage specials include:
– 10 oz New York Steak – $26
– Bison & Bacon Jam Burger – $17
– Ultimate Caesar topped with a Slider – $12
Live entertainment includes:
November 24th @ 7:30 pm – Cooper Tropeau
November 25th @ 7:30 pm – Katelyn Lehner
We can't wait to see you there, partner!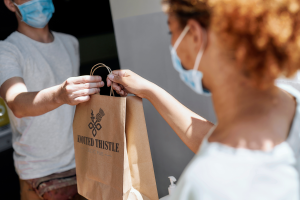 Craving some pub food?
Don't feel like going out? Not to worry – you can still get our mouth watering pub food at home. Order take-out through Skip the Dishes or Doordash today!
If you want extra points for supporting local, why not pick-up directly by calling 1.306.584.6320.
Experience the Knotted Thistle Pub at home today!